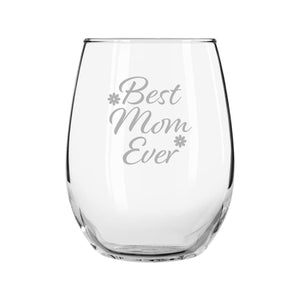 Cheers All
Best Mom Ever Wine Glass - American Made Quality Glassware
This is sure to be Mom's favorite gift. This American made, elegantly laser etched stemless wine glass is the perfect way to tell her you love her! 
What better way to thank the person who raised you than to give them the perfect excuse to have a guilt free tasty beverage at the end of a long day? 
This Best Mom Ever Wine Glass features a beautiful laser etched artwork which will remind her that this is her time to sit back, relax and enjoy this time. 
This wine glass is both functional and elegant.
American made with crystal clear glass it will beautifully showcase a wide variety of beverages including wine, cocktails, soft drinks, juice, or even water. The stemless design minimizes the risk of breakage while also maintaining a contemporary, streamlined appearance.
With it's 15 oz. capacity it's perfect for serving your different selections of great red wine.
---
More from this collection