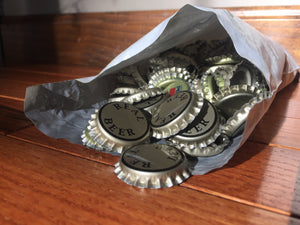 Cheers All
Oxygen Absorbing Beer Caps for Home Brewing
Lot of 200+ Oxygen Absorbing Beer Caps for Home Brewing. These are a mix of  oxygen absorbing caps which have different designs on the top.
Beer Capping Tips:
Cap on foam! This means you put the cap on the beer bottle and seal it as the foam is leaking over the top of the bottle. Messy but makes for a well sealed brew.
Keep caps sanitized. Personally, I put all my caps in a bowl with warm water and star san and pull the caps out of other. Then I know my hands and the caps are sanitized. 
If you don't want to use your kitchen sink, bottling and capping over your dishwasher works great. Just don't trip over the door! Put your bottling bucket above your dishwasher, open the door and the door will catch any spills. I've also sanitized the racks and pulled bottles off of them as needed.
---
More from this collection