FAQ:
1) What if this glass doesn't work like you describe or it arrives broken?
We have a 100% satisfaction guarantee, contact us ty@cheersall.com, I'll refund your purchase and send a return shipment label. You're covered, we'll pay shipping both ways.
2) Is it dishwasher safe? 
Absolutely, put it on the top rack with all your other glasses. Though I often opt to hand clean mine to make sure there is no film left on the glass from the dishwasher.
3) Can I freeze the glass?
Of course! "Technically" beer snobs (like me) will say you should only drink beer out of a room temperature glass. But on a sunny day; all that goes out the window. Nothing beats a frosty glass on a hot day. Do it up!
4) Wait, isn't this just a Sam Adams glass that you slapped a different logo on?
It's not! While they do look similar and have a lot in common, our glasses are a bit different. The SA glass has a narrower base which I always found too unstable and I didn't like how the narrow mouth would hit my nose when sipping. Our glass fixes these issues. You can see a side by side comparison below. The glass on the right is the 16oz Cheers All glass next to a 16oz SA glass.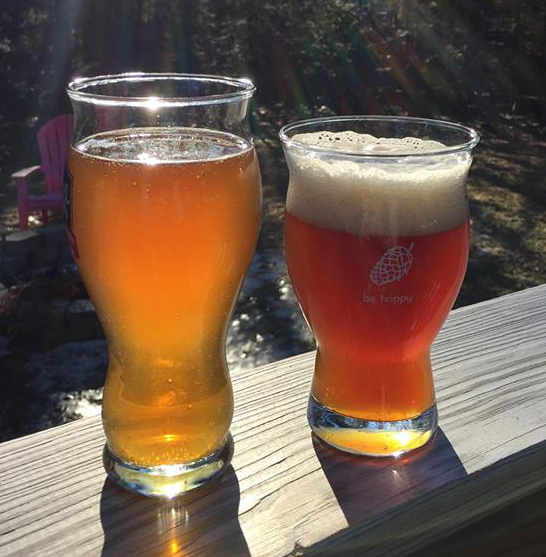 5) Can I order a bunch of glasses for my bar, brewery, or wedding?
You sure can! Our minimum custom order is 72 units (3 cases). We can but custom artwork on the side and even change the etching in the bottom. Just send me an email, ty@cheersall.com and I'll help you out.
6) Is this really good for every style beer?
While technically each beer style has it's own preferred style of glass, this glass is an excellent all around beer glass. You may get more flavors from a barley wine if it's in a brandy snifter for example, but any beer you put in here will definitely taste better than in a generic shaker pint glass. So while it may not replace the need for a few specialty glasses, it will definitely improve the flavors you experience of any beer you put into the glass; and that is truly what matters.
7) Do the Glasses arrive Gift Wrapped?
They don't arrive wrapped but they come in appropriate packaging. The single "be hoppy" glass arrives in nicely designed box to showcase the glass. The six packs arrive in a shipment box with the glass details explained on the side and with an insert in the box.
8) What if I break one of my glasses?
We do offer replacement glasses on our site. If you don't see what you need in inventory email me and I'll try and get a replacement to you right away.