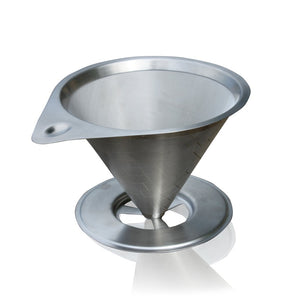 Cheers All
Pour Over Stainless Steel Coffee Filter With Base - Paperless & Reusable
Sale price
$8.99
Regular price
$16.99
SOLID AND ELEGANT CONSTRUCTION – The one piece construction ensures you can pour hot liquids with confidence that the filter will remain in place. The solid construction makes it easier to use, clean and store. It can also easily be stored upside down.
REUSABLE, PAPERLESS & EASY TO CLEAN – Never worry about if you have any filters to make coffee with. Nothing is more frustrating than realizing you don't have a coffee filter when you are just getting ready to make a pot of coffee. Stop buying paper filters which impart flavors, with this filter you'll never have to buy paper again! Order now and start saving money today.
PERFECT FOR ALL YOUR COFFEE ADVENTURES – The compact design of the Java Bean two-stage filter is perfect for your camper, boat, camp, office or travel. All you need is freshly ground coffee, boiling water and a mug and you'll get fresh great tasting coffee everywhere you go.
LASER CUT TWO STAGE FILTER – The two-stage coffee filtration starts with our 18/8 28-micron fine mesh interior cone. This filter removes 99.9% of all the grinds while still retaining the bold flavors and oils that provide you with a delicious cup of coffee. The secondary filter aerates the coffee as it is following through allowing the essential oils to blossom in your cup. This filter is perfectly designed for freshly ground coffee or tea leaves.
---
More from this collection