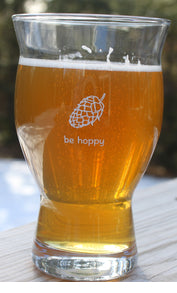 The US Craft Beer revolution has arguably led us to have the best beers in the history available to us simply by going to the grocery store. But, while the Craft Beer revolution has been changing the way beer is appreciated, it hasn't been able to change our view of how important glassware is to the experience. In Belgium, they truly understand how important glassware is to the flavor, in fact, a bartender can be FIRED for not serving a beer in the appropriate glass... Why have we been so slow to adopt this mindset? Since the repeal of the prohibition in 1933...
---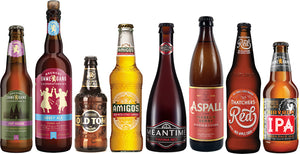 Has this ever happened to you? You just get back to your hotel room with a great selection of local beers only to realize that there are no bottle openers in your room and you don't have one with you! Or, you bring a tasty beverage with you on a nice kayak trip or hike in the woods and when it's time to crack open that beer and enjoy your seclusion it's now you realize this brewery does not have a twist cap. No worries, here are 5 ways to get you enjoying your beery goodness in just a few moments... Check out...
---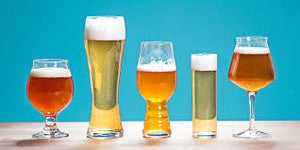 These are the words the waiter said to me while I sat alone in a Belgian bar in Hong Kong... I was startled and a little scared. Wha? What? I said while I looked around in utter bewilderment. Other than my buddy I was traveling with, no-one had spoken clear English to me in weeks. After a few seconds, I finally re-gained my composure... or what composure I could (after two weeks of drinking light lagers, we had certainly imbibed a few high end beers once we found this Belgian godsend).  What did I do? What are you talking about?...
---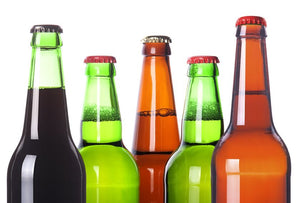 If beer is left exposed to the sun too long the UV rays break down the Alpha Acids in the hops and these then react with the sulfur in the beer and it actually forms a chemical that is almost identical to a Skunks' spray. I really dislike flavor and will go to great lengths (such as wrapping my beer in paper) or brining my own mug to hide my beer from the sun when I'm drinking outside. Yup, I'm pretty embarrassing to hang out with... In fact, that is why we created an outdoor beer/camping mug that will protects beer...
---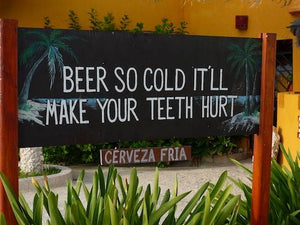 First of all, let's start with: it's your beer, drink it however you want! But, if you want to experience the most flavor out of your beer, keep reading, these tips will help you maximize the flavors you get. Start with beer the right temperature Temperature is important, in general, an easy rule to remember is the stronger the beer, the closer to room temperature it should be served. Most US breweries expect their beer to be stored and poured at 38ºF. Mass produced pilsners and lagers are designed to taste best at very cold temperatures, they are intended to be cold and refreshing....